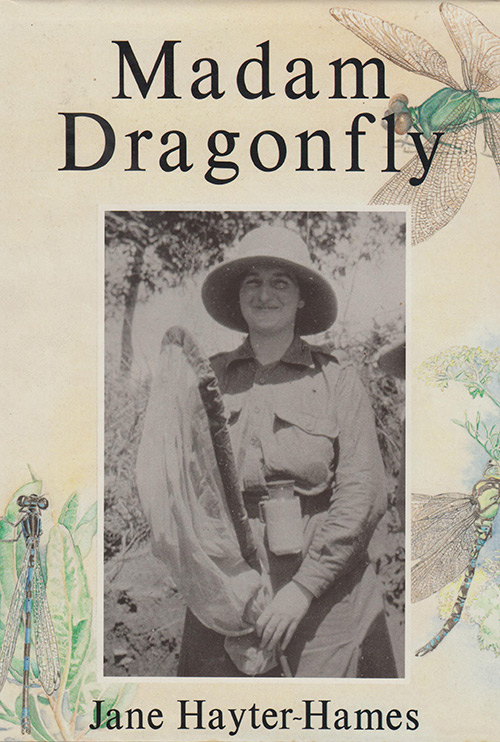 Back to Books
Pentland Press of Edinburgh, 1991
by Jane Hayter-Hames
Pentland Press of Edinburgh, 1991
Hardback | 170 Pages
Cynthia Longfield was the daughter of an Anglo-Irish landowner. She became a naturalist and author whose books on dragonflies were the standard works for many decades. Self-educated in science, Longfield began travelling as a young woman after the First World War and later became the dragonfly expert at the Natural History Museum where she worked until retirement in 1956.
The family home in Ireland was burned in 1920, at the start of the Troubles. She went back and forth from London with her mother, to get the old castle rebuilt. One way of life was coming to an end, but her career as a naturalist was just beginning.
Her great break came in 1925 when she joined the St George expedition to the South Pacific with a group of scientists, to follow up Darwin's research. She was invited aboard as Evelyn Cheeseman was the only female scientist and needed a female companion. They were at sea for eighteen months, visiting many remote islands to collect specimens. Cynthia was assigned to help Cyril Collenette and they fell in love. But despite further journeys together, Cynthia turned down his offer of marriage and remained single, to pursue her career as a scientist, odonatist and confident traveller.
Cynthia Longfield made collecting expeditions to South America, South East Asia, Canada and two long journeys across Africa in the 1930s. During the Second World War she joined the London Fire Service and helped to evacuate part of the Museum's precious collection. After the war, now in her fifties, her journeys were less remote but she collected in Europe and went to international conferences which brought scientists together. She was in Moscow in 1968 when tanks rolled into Prague and she went to India as an elderly contributor to a conference in Delhi.
Cynthia Longfield was the daughter of privilege but the Anglo-Irish way of life ended dramatically for her when her home was set on fire. She had a speculative mind, which fed on her long journeys, and scientific reading giving her an unusual outlook. Compiled from extensive interviews, diaries and papers, Madam Dragonfly gives a personal account of a clever and adventurous woman with a wide understanding of the natural world.
Currently out of print. Please email for further information.