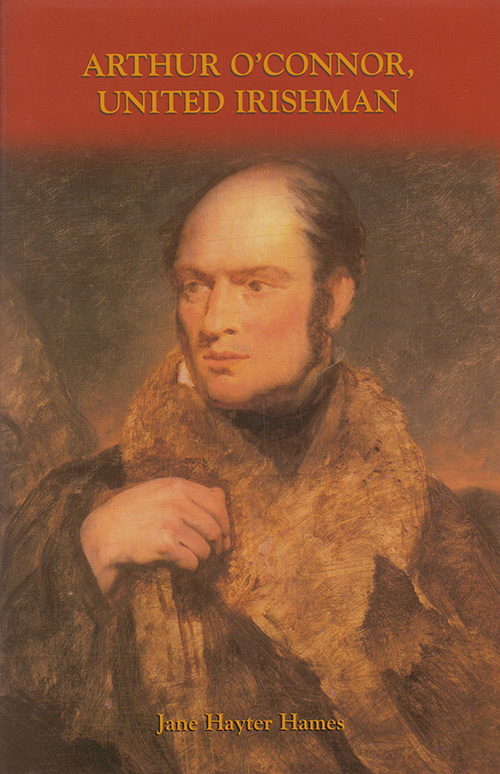 Back to Books
Collins Press of Cork, 2001
by Jane Hayter-Hames
Collins Press of Cork, 2001
Hardback | 280 Pages
£20.00 (€23.00)
Plus Postage & Packing
The late eighteenth century was a time of high ideals and intense conflict, as the ideals of the French Revolution spread across Europe. For Ireland, liberty meant overcoming the heavy penalties on Roman Catholics and the dominance of England. Yet, it was young Protestants who led the movement for liberty which culminated in the rebellion of 1798.
Arthur O'Connor came from West Cork and had a disputed ancestry. He was heir to a large Anglo-Irish fortune but the ideals of liberty and modern development were stronger than his loyalty to family and hopes of inheritance. Passionate and clever, with an intense personality, O'Connor befriended Lord Edward FitzGerald, a heart-felt democrat who died in the rebellion.
O'Connor was captured and imprisoned just as revolution broke out. Spared execution, he was held for many years in a Scottish fortress and then exiled. He settled in France and married the daughter of one of the French Philosophes, whose ideas had inspired the revolution.
O'Connor's story carries within it all the ideals and tragedy of the age. He was handsome and intellectual, spent much of his youth in prison and never led his country as he had hoped. With his ideals intact, he was also riven by guilt over the loss of life during the rebellion and bitter over its failure and the union of Ireland with Britain.
Jane Hayter-Hames' biography captures the background which made the man and the ideas which inspired the moment. A friend of Fox and Sheridan, O'Connor was an intellectual but also a man of action. The rebellion failed, leading to thousands of deaths and O'Connor was forced to make a treaty with Pitt's government. The biography shows O'Connor's solitary reflections while imprisoned in Scotland and his reception by the intelligentsia in France. His own memoirs inform the book and quotes from them let the reader hear O'Connor's ideas in his own voice.
Arthur O'Connor was inspired by the ideas of a seminal moment in European history, which he in turn influenced. During his long life he was a leader among the early republicans in Ireland and in France. Hated in England and depicted in popular cartoons, his ideals never altered but his hopes for Catholic emancipation, economic development in Ireland and Irish liberty were slow to be realised. Only long after his death did Ireland gain independence from Britain and take control of her own destiny.