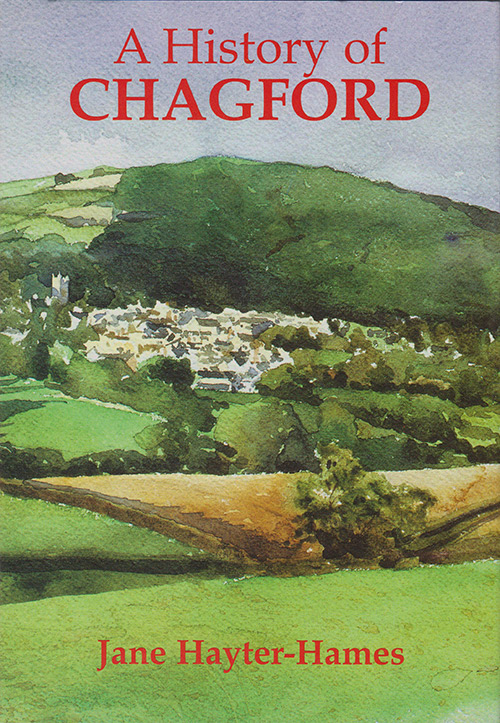 Back to Books
Rushford Publishing, 2004
by Jane Hayter-Hames
Rushford Publishing, 2004
Hardback | 170 Pages
First published by Phillimore 1981
2nd edition by Rushford Publishing 2004
Chagford lies on the northern slopes of Dartmoor in Devon. The granite which underlies the moor and shows as tors or rocky outcrops, is also seamed with tin and other metals. The thin soils, Atlantic weather and the metal have formed the town and shaped its history. In medieval times Chagford was a Stannary town where tin was weighed, assayed and sold to merchants. Tinners were free men and brought wealth to the town, but they diverted water, created waste and left their furrows and smelting works across the landcape.
St Michael's church was consecrated in 1261 by Bishop Bransecombe of Exeter. The land had been given by the lord of the manor but the site was older as the banked and walled graveyard testifies. Chagford is lucky to have retained Churchwardens Accounts for the period of the Reformation when so many changes were made to the fabric of parish churches.
A History of Chagford gives a wealth of detail about the way that Chagford has developed from the earliest days. In the background the history of Dartmoor and the wider Devon story emerges. The moor is rich in prehistoric remains which give the beginning of the tale while farming has been the basis of the settlement from the earliest days to the present. The book records many of the farms and their owners and the gradual changes made to the fabric of the town. In the twentieth century, the impact of the world wars is all too intimately recorded but also modern developments as Chagford adapts again to modern times.
For anyone familiar with Chagford, this book is essential reading. For those with an interest in Dartmoor and its small towns, who like a local history to bring to life earlier times, Jane Hayter-Hames' history is a splendid read.